Sicily

Trapani
Church of the Holy Souls in Purgatory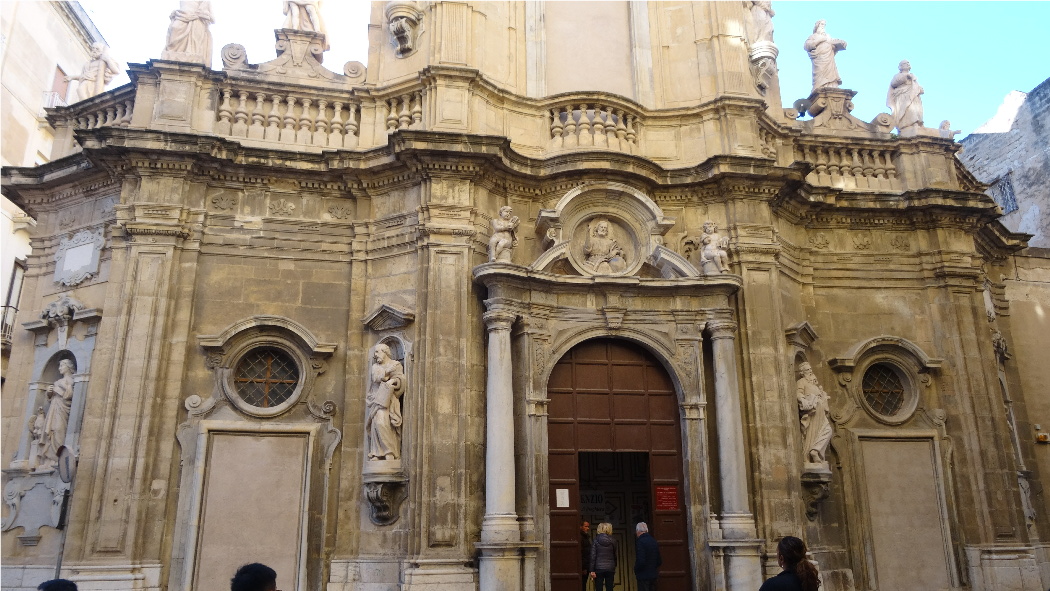 The Church of the Holy Souls in Purgatory is located in Trapani close to the sea front in the old part of the city. Dating back to 1688 the façade was constructed between 1712 and 1714 of limestone and consists of two orders adorned with statues of the twelve Apostles by the sculptor Alberto Orlando. The dome is made of local tuff stone, a light, porous rock covered with green majolica tiles.

The church, is in the shape of a Latin Cross, and has a nave and two aisles. These aisles are separated by six marble columns constructed in 1754. The church was badly damaged during World War II and underwent repairs and renovation and was re-opened as a place for worship in 1962.

On display in the chapels and in the presbytery, are canvases by Gluseppe Felice depicting the passion of Christ. It is best known however, for the 18 groups of sculptures that have been housed there since 1959. It also houses two simulacrums, these are images or representations, one of Christ and the other of Our Lady of Sorrow, these are carried in religious processions.

The Holy Groups origins go back to the 17th and 18th century when several craft workshops were opened in Trapani in order for artist to create works of art using simple and cheap materials. The techniques used for the groups was to create the structure using wood and cork to provide the body, the limbs were made of wood. The bodies were then draped with cloth soaked with glue and were sewn and moulded to give them a realistic appearance. A thin layer of plaster and glue was applied and then painted. Decorations of gold leaf and silver were then applied.

Prior to being located in this church the statues were held in the church of San Michele, but this was damaged in a bombing raid on April 6th, 1943 resulting in the damage to a number of the groups. These were restored although the restoration process left them with a brownish shade, something that was corrected in the 1990's, so that they now appear in their original colours.